This job listing has expired and may no longer be relevant!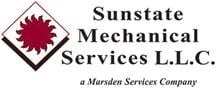 Service Plumber
Scottsdale, Arizona, United States

To be Determined

Full-Time
Job Description
Sunstate Mechanical of Scottsdale, AZ is seeking to hire a full-time Commercial Service Plumber to perform repairs and maintenance on commercial plumbing systems and resolve client problems in a courteous, professional, and accurate manner. This Commercial Service Plumber position makes $25-$35/hr.
We also provide excellent benefits including medical and dental insurance as well as a 401(k plan, paid vacation, and flexible working hours! If this sounds like the gig you've been waiting for, apply today!
Do you have top-notch troubleshooting skills? Are you a master problem-solver? Can you complete paperwork in a timely manner as well as responsibly collect payment from each customer? Can you resolve customer problems in a courteous, professional, and accurate manner? If you're searching for a stable career with a top-rated plumbing company, fill out our initial 3-minute, mobile-friendly application now!
ABOUT SUNSTATE MECHANICAL SERVICES
Sunstate Mechanical Services is a Marsden Services Company located in Scottsdale, Arizona. We are full-service HVAC, electrical, and plumbing contractors that are committed to offering the best service. Our business clients range from small offices to Fortune 500 corporations and large campus environments. We are fully licensed and insured to provide our services in Arizona, California, Washington, Alabama and Texas. We feature one of the most reliable fleets in the industry and service all makes and models of equipment to ensure our customers receive the best service.
At Sunstate Mechanical Services, you know that you are appreciated because we believe that our employees are our most important asset. We work hard to promote our employees' well-being, personal development, and career development. We all work together as a team. We value the time and hard work put in by our employees which is why we offer highly competitive salaries, great benefits, and a fun and rewarding work environment.
QUALIFICATIONS
• Experience in servicing, troubleshooting, diagnosing, and repairing plumbing equipment/issues
• Valid driver's license with a clean driving record • Ability to pass a drug test and a background check
• High school diploma or GED equivalent
• Technology skills
Can you contribute well to a team? Are you willing to do whatever it takes to make our customers happy? Do you enjoy working with a team? Do you have excellent communication skills? Do you thrive in a fast-paced environment? Are you well-organized and punctual? Do you present yourself professionally? Can you multitask? Are you proud of your hard work? If so, you're the Commercial Service Plumber that we're looking for!
How to Apply
Apply from here or visit us at https://marsdenjobs.com/sunstate/ with your resume.