This job listing has expired and may no longer be relevant!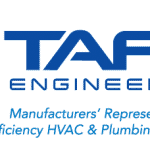 Controls & Service Specialist (Boiler/Burner)
Englewood, Colorado, United States

To be Determined

Full-Time
Job Description
The Company
Taft Engineering is a Manufacturer's Representative firm for premium commercial and industrial boilers, water heaters, burners and boiler room equipment companies. Since 1998, we've been partnering with the finest brands in the business to provide Colorado and the Front Range with complete commercial and industrial energy solutions. Taft is headquartered in Centennial, Colorado along Denver's southeast corridor. The company has experienced significant growth since 1998, and our seasoned staff includes degreed engineers, highly trained technicians and product support experts.
Why work at Taft?
Taft partners with best-in-class, manufacturer market leaders. In doing so, Taft's outstanding in-house team is able to utilize its collective expertise in the areas of equipment selection, start-up, and maintenance for new installations and retrofits. We believe that at Taft, your employment and professional development expectations will be exceeded.
Job Description:
You will have daily interactions with onsite (field) personnel including engineers, contractors, owners, commissioning agents and other technicians, assessing the proper installation of newly installed equipment and performing factory authorized startup on that equipment. This will include commissioning of all pertinent related system aspects such as BAS interfaces. Additionally, you will perform preventative maintenance, troubleshooting and repairs of equipment sold by Taft Engineering, honoring preventative maintenance contracts. Following startups, you will have the opportunity to provide Taft Engineering product training to onsite personnel.
Job Duties:
· Provide accurate field assessments of newly installed equipment to ensure compliance with local code and manufacturers' recommended installation guidelines
· Perform factory authorized startup on newly installed equipment and submit required documentation
· Provide short technical trainings for onsite personnel on the newly installed equipment
· Troubleshoot and repair equipment sold and under contract by Taft
· Perform preventative maintenance on equipment under contract by Taft
· Work with the installing contractors (mechanical, plumbing, electrical and controls) to address all questions and concerns prior to startup
· Work closely with Taft's inside sales and product support teams to review specifications and construction documents to assure proper application of the equipment and controls sold by Taft.
· Complete jobsite walkthroughs to include documentation of existing equipment, measurements and drawings to assist in retrofit opportunities
Job Requirements:
Flexible, self-starter, able to work independently on the job site, attention to detail, learn new products and systems quickly
Computer knowledge preferred, and knowledge of appropriate boiler/burner-related standards
Ability to work from electrical schematics, drawings, plans or specifications
Very generous and market-competitive salary
· Possess hands-on skills and knowledge to troubleshoot, test and complete required repairs and maintenance on commercial HVAC systems (including boilers, motors, automation/controls systems, and associated electrical systems)
· Possess excellent communications skills, both written and verbal
· Ability to effectively manage diverse relationships with project team members, including engineers, contractors, clients, and end users
· Effectively troubleshoot and work through issues as they arise; understanding that every setting is new and different
· Expert knowledge of industry practices and processes
· Ability to travel: 10%-15%
· Valid Driver's License, clean driving record and ability to pass a criminal background check.
Compensation:
Very generous and market-competitive salary
Company Benefits:
· Medical and Dental Insurance (100% of employee premium paid by company)
· 401K plan: up to a 4% match
· Company Vehicle w/ gas allowance
· Cell phone allowance
· Company computer provided
· Paid PTO
How to Apply
Please use the following link to apply for this exciting position: https://i2i-workforce.hiringthing.com/job/55988/controls-service-specialist-boiler-burner
3035 total views, 1 today
Apply for this Job